Tryon Horse | Shows | Eventing
Carolina Foothills Equestrian News
Sep 13, 2016


2 #10 Wide Blades Free when you purchase a KM10 Clipper!
The KM10® is a professional 2-speed brushless motor clipper with maximum power and torque, constant speed control and ergonomic design for increased comfort and control. It's Revolutionary New Brushless Motor Technology makes this clipper virtually maintenance free and extends life of the motor to 10,00 hours.
Sep 3, 2016
Study: Poor Equine Welfare, 'Pessimism' Linked
By Christa Lesté-Lasserre, MA


When life's got you down, do you tend to be pessimistic? According to a new study, horses sure seem to be. French researchers have learned that suboptimal living conditions, such as 24-hour individual stabling and restricted feeding, can make horses less optimistic. More info...
Aug 25, 2016
What's Your Trainer Teaching Your Kid?
BY DELORES KUHLWEIN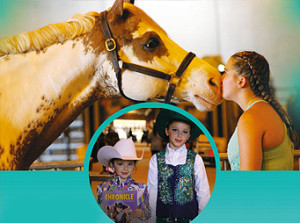 A young mother listens impatiently, crossing her arms, and tapping her feet, as her own mother doles out unsolicited advice. "I don't envy you having to raise a child these days," the grandma declares. "The world has changed, and it's a lot harder to protect your kids against negativity." Her daughter tries to suppress rolling her eyes, while directing her attention back to her toddler.
More info...
more about horses
Questions? Comments? Suggestions?
Email the Webmaster
at Tryon Horse, Tryon North Carolina. 2014-2016 Tryon-Horse.com. All rights reserved.